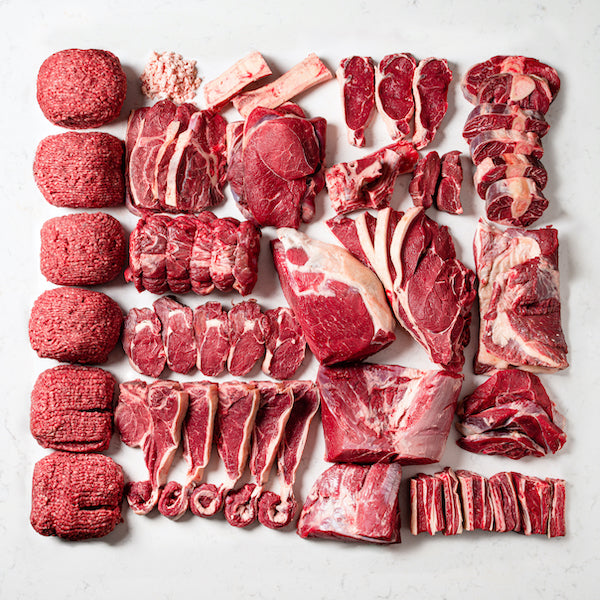 Image pictured is for indication only and does not contain the full 15kg of mince, 2kg of fat or 10kg of bones.
How a share works
Our 100% grass fed cow shares are about embracing a nose to tail way of eating that sees zero waste and the entire animal celebrated. It's a more sustainable way of eating and a sustainable way to shop. Buying this way means your farmer isn't left scratching their head about what to do with the leftovers once the most popular cuts are sold—so thank you in advance if you decide to purchase.
Each share includes 1/4 of a whole beast which is equal to around 58.2kg of meat, fat and bones at approx $29.2/kg.
- You can have your share delivered to your home or you can pick up from our farm in Dungog if you're local or visiting the area.
- You can add extra items from our online store to your order. We believe chest freezers are a brilliant thing if you have the space, especially as food security becomes more important.

About the beef
Our cows are 100% grass fed from our regenerative farm in Dungog, NSW. We raise our animals in a low stress environment and do our best to make sure they only experience one bad day. If you have any questions about our shares please reach out to us at orders@ethicalfarmers.com.au. Each share includes the following:
| | |
| --- | --- |
| T-Bone steak | 2.57kg |
| Rump steak | 2.0kg |
| Sirloin steak | 1.07 kg |
| Scotch Fillet steak | 940 g |
| Mince | 17 Kg  |
| Fat | 3 kg  |
| Bones | 10 kg |
| Topside Roast  | 3.kg  |
| Brisket  | 2.5 kg  |
| | |
| Silverside Roast  | 3.0 kg  |
| Chuck Roast  | 2.77 kg  |
| Osso Bucco  | 2.1 kg |
| Marrow Bone  | 570 gm  |
| Round | 1.75 kg  |
| Y -Bone Steak  | 1.78 kg |
| Gravy Beef  | 920 g |
| Short Ribs  | 1.4 kg |
| Eye Fillet steak | 370 gm |
| Blade Roast  | 1.35 kg |